This WWRW comes to you straight from a home in the delightful trenches of the first weeks of homeschooling. If you're looking for recommendations of fascinating adult non-fiction, look elsewhere...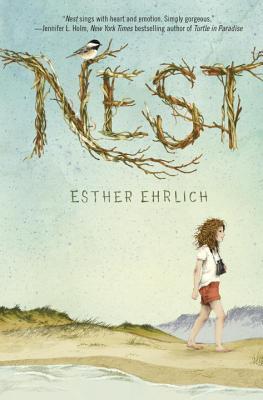 First up, a book I read for myself: the lovely debut NEST, by Esther Ehrlich. I received an e-galley of this one through netgalley, making it the first book I've read entirely on the used Kindle my mom gave me. I'm not really a fan of Kindle-reading, but I did enjoy a lot about the book.
NEST tells the story of Naomi (Chirp), a spirited and spritely young girl who--in short--has to deal with much more than any child should have to deal with. Her mother is diagnosed with a life-altering illness...and it just gets harder from there on out. The juxtaposition of Chirp's hopefulness and courage against the challenges of her life was incredible. The portrayal of her friendship with a neighborhood boy with problems of his own was insightful and lovely. The writing style was downright impressive. (As a writer, many notes were taken.)
I won't hesitate to recommend this story to adults or young adults; it's especially perfect for those of you who love Katherine Paterson. But I would recommend reading it before giving it to an actual middle grade child. It was a little traumatic for me to read as an adult, so I'd use caution when giving it to a sensitive child.
As a family, we're reading THE SECRET GARDEN, by Frances Hodgson Burnett--in my opinion, one of the best 10 books ever written for children. And I'd put it pretty high on the list. If you're a writer, analyze the brilliance of Hodgson's storytelling. She breaks all the rules with so much skill that it's about a million times better than any rule-following story. I'm also practicing my read-aloud skills on this one, as I attempt to "do all the voices." If you've read The Secret Garden lately, or love it as much as I do, you'll recall that it's set in Yorkshire (home of my patron Margaret Clitherow as well as the famed vet James Herriot...so I love it and all). They have a very unique accent in Yorkshire. I cannot render this accent with any level of believability. I pretty much sound like a New Englander who got stuck in Ireland and is trying to talk with her mouth full.
52 DAYS BY CAMEL is being read aloud for Earth Studies, as we learn about deserts. I am totally enraptured by Lawrie Raskin's description of life in the Sahara, and so are the girls.
To balance things out, here's a fiction picture book we found and loved: LOUISE, THE ADVENTURES OF A CHICKEN. Of course, we've recently become obsessed with chickens (we had our first eggs these past couple weeks!), so we may be biased. Also, we love Kate DiCamillo. But this was so much fun. You have to read it.
Check out what some other great folks are reading this week, here: http://www.housewifespice.com/2014/09/wwrw-twitter-style.html